Working with Art, Archetypes, and  Spirit

Requiem
My paintings unfold in an order that is synchronous with the movement of the parts of the mass for the dead. Starting with number one and going forward to number eighteen, the images and titles suggest the state of the soul from the day of wrath until the day of rest and peace.
"That day, the Day of Wrath, will turn the universe to ashes, as David with Sibyl foretold."
A Requiem Mass brings peace to a soul after death. When I first heard Verdi's Requiem Mass for his friend, the poet, Alessandro Manzoni, the terrifying Dies Irae (Day of Wrath) stunned me. The Dies Irae, which introduces the traditional sequence of the Catholic funeral rite, interweaves powerful feelings of loss and sorrow into the wish for mercy and salvation. Its trumpets play some of the loudest, unamplified music ever written.
The music rolls forward into the gut and vibrates through the body. It carries away grief into something bigger to reveal a soul begging the Highest Power, in the Libera Me, "Free me, Lord, from eternal death…"
While I listened to the operatic splendor of Verdi's great music, I imagined a painter's Requiem Mass for the repose of the Soul of the World. At the end of my Requiem I felt joy and wonder at the miracle of creation. Destruction banished, life renewed itself.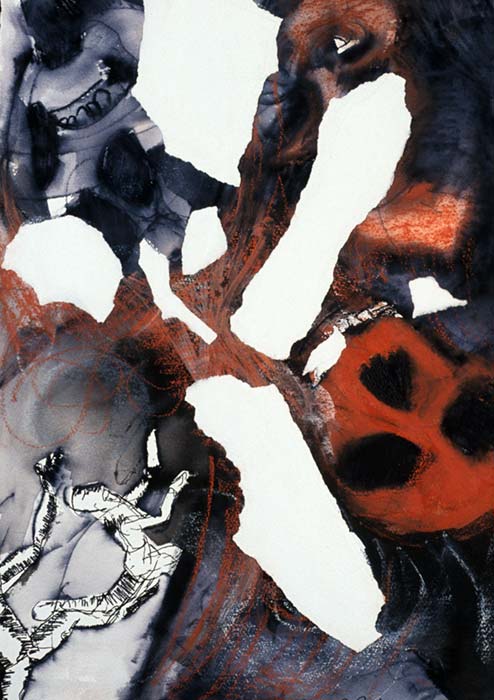 Requiem 5
Red Ochre, charcoal, acrylic on paper; 30" x 22.5"
Copyright © 2018-2019 Judith Hoch